A Simple Push of a Button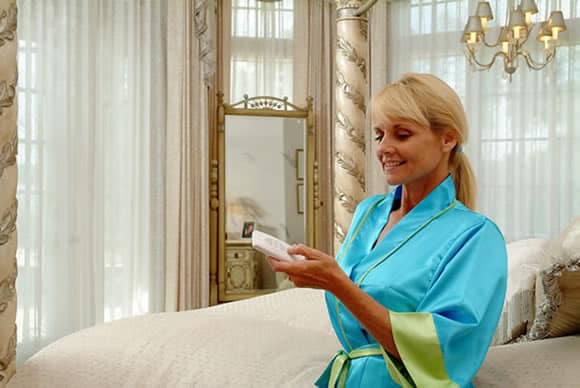 Virtually every type of window treatment can be motorized from shades, blinds, draperies, even shutters, you name it we can motorize it. Motorized window coverings are more affordable than you may think and should consider adding this option to the window coverings for your home or business.
Automated window coverings are convenient to operate with the switch of a button on a remote control or wall switch, and now they can even be operated from your phone or tablet. Imagine how easy it would be opening and closing hard to reach window coverings, skylights, behind a tub or several windows all at once.
You can save money on your energy bills with automated blinds programmed to open or close at set times. This is also a security benefit when you're away from your home, the window coverings opening and closing or tilting will make your home seem occupied. Comfort and safety are benefits as well. Watching TV or viewing a computer without a glare on the screen can be achieved without having to get up to operate the window coverings. No cords dangling anywhere provide a safe environment for kids and pets.
To protect your furnishings from the sun's damaging ultraviolet ray's window treatments can be programmed, or sun sensors added to close when the sun harmful rays come into your home or business.
A simple battery system added to most blinds or shades can be an affordable option to consider. Whether you're looking for an inexpensive motorized shade or a whole home integrated solution, Ruffell & Brown can help you make the right choices for you and your budget. We carry several manufactures to ensure a selection in every price range and every available option is available to you. Our experienced certified trained professional sales team have suppled and installed automated window coverings since 1987, this ensures that you are dealing with experts and leaders in the window covering industry.